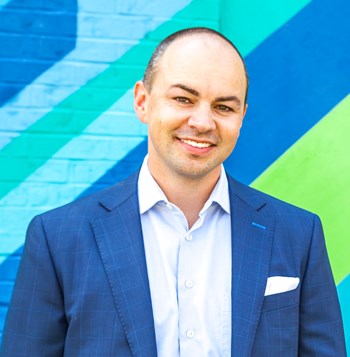 Specialties
Investment & Development
Scope of Experience
After a successful 15-year career as a commercial real estate agent helping clients acquire, dispossess, lease, and develop industrial and investment properties, Russell has shifted his focus from brokerage towards structuring personal development and acquisition ventures. His development activities will range from the renovation and re-lease of existing buildings to the purchase of raw land and the sale of developed land or parcels. Russell maintains an active salesperson license with NAI Heartland and still provides brokerage services for certain key clients, but is otherwise considered a referral agent and an independent developer structuring deals outside the NAI Heartland umbrella of companies.
Background & Experience
Russell started his real estate career in early 2008 with Lee & Associates Kansas City after a successful nine year career as part-owner of a family-run sheet metal fabrication company founded in 1941. His experience running a business with fifty employees combined with eight years in real estate brokerage gives him a unique blend of pragmatic management skills and real estate transaction proficiency. Since 2008, Russell has been involved in a wide array of commercial transactions including sales, leases, consulting, build-to-suit projects, and land development advisory.
Education
Russell graduated with an M.B.A. from the University of Missouri, Kansas City with emphasis in both Commercial Real Estate and Operations Management in 2009, and a B.A. in Business Administration with an emphasis in Marketing from Graceland University in 2003.
Professional Associations & Designations
2012 Costar Power Broker Award Winner, Received CCIM Designation in 2012 - Active Member of the local CCIM Chapter, 'REALTOR Rookie of the Year' in Kansas City for 2009 CCIM, SIOR and Lewis White Real Estate Center - Scholarship Recipient
Strategic Clients
» Silpada Designs » GE Real Estate » Dickinson Theatres » Sika Sarnafil » Ward Development » Guier Fence Company » United Rentals » Rose Design/Build